Flower The Eastern Cottontail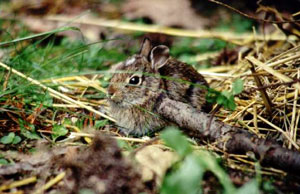 Flower came to Wild Baby Rescue when she was found lying in the snow in early March. She was about three days old. She was warmed and then fed a rehydration formula. She had a small puncture wound that was probably made by a cat. Taking no chances the wound was cleansed and she was started on an antibiotic.
She was given formula three times daily and seven days later she opened her eyes. Leafy greens, apple and pear was added to her diet and at twelve days old she was weaned off her formula and eating lots of solid food. By the time she was three weeks old she was eating a head of red leaf lettuce, ¼ of a pear and ¼ of an apple each day.
She was released at six weeks old to a place where she will have plenty of green grass and clover and hopefully live a long, good life and have many baby bunnies of her own. (note how she is camouflaged in the leaves)