Our Fawns: Penny, Jake, Clover, Tinker Bell, Cricket And Homer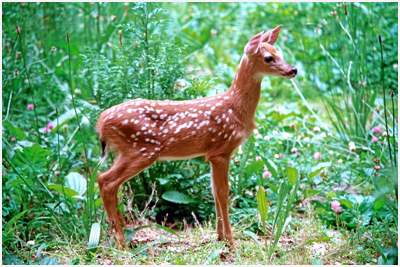 Penny, Jake, Clover, Tinker Bell, Cricket, and Homer are just some of the tiny fawns that we cared for this year.
Penny (pictured at left) was hit by a tractor and had two broken legs. Jake was carried in the mouth of an Irish Wolf Hound. Homer, Tinker Bell, and Cricket were orphaned when their mothers were hit by cars.
The tiny fawns are warmed and rehydrated. We kept them close to one another as it comforts them. They spend about a week in the nursery and then head down to the barn. They are kept in warm stalls with plenty of bedding and hay. The fawns are given a bottle four times a day to start. As they get older, they are allowed out in their enclosure to sun themselves, graze, kick up their heels and play tag. At night they are led back to the stalls for warmth and a bottle.
By August they get bottles twice a day and are foraging on leaves, grass and corn. They stay out in the enclosure at night and their baby spots begin to fade. By the end of August the fawns are let out into the wild each morning. They return at night for their single daily bottle. By the end of September the fawns are weaned and on their own.
Five of the fawns remain on the property and are frequently seen at the deer feeders and water pans. It is a comforting sight to know that Wild Baby Rescue Center had a hand in the survival of these beautiful creatures.