Red Fox Come to the Center
In the year 2009 Wild Baby Rescue Center expanded its services to care for red fox. We helped Daisy, Gabriel, Nathaniel, Nathan and Thor (pictured at left).
All suffered from mange (a small mite that causes the infected animal to scratch until it has no fur, and leads to sores and emaciation.) Mange is very treatable and all of our foxes left with full bellies, full red coats and black stockings.
Isis, The Goddess Of Nature, Motherhood And Magic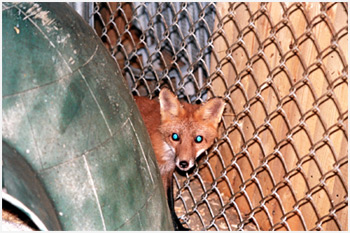 Named after the goddess of nature, motherhood and magic, Isis (pictured at right) was brought in by a man who witnessed the driver in front of him purposely swerve to hit her while she was walking on the side of the road. The man pulled over to check the animal and saw that the young fox was still alive. Wrapping her in his sweatshirt he rushed the animal to Wild Baby Rescue Center.
Upon arrival we saw the fox kit, a four month old female, had damage to her left front leg and her right back leg indicating that she had been rolled by the car. Both legs were raw with road rash and wounds deep enough so that the tendons were showing. After an hour of stitching her legs back together she was transferred to our intensive care area for her recuperation. After a month of antibiotics, good nutrition, and small cage rest, her legs were healed. We put her in the exercise cage in the barn and she walked, ran and jumped just fine. She was released on private property where Thor, one of our beautiful males was released. Was her name a sign? Our fox friend Isis is of nature, and her recovery was truly magical. Maybe Thor and Isis will be blessed with kits of their own and she will become a goddess of motherhood?
Update: Isis and Thor were spotted together in December 2009